To Know About Study MBBS from Russia
---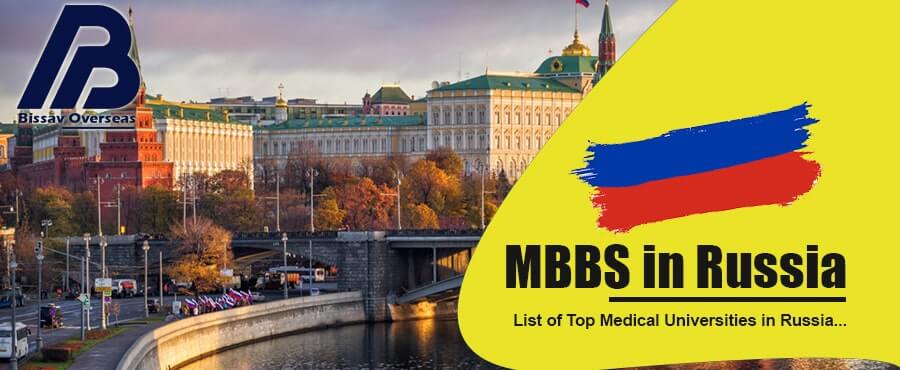 Russia ( MBBS in Russia ) has become one of the most popular destinations for higher studies. Every year, there are larger than10,000 Indian students who take admission in top Medical Universities of Russia. Russia is a land of medical masters for decades, and it is worth considering studying medicine because of uncountable reasons.
MBBS in Russia will offer the medical candidates, plenty of opportunities to build as an excellent doctor. Russia is high- end teaching standards. It is well- provided hospitals with tertiary care units. To study MBBS in Russia,is one of best decisions for students because almost all Russian universities are Government recognized and are listed in the World Health Organization (WHO), and Medical Council of India (MCI).
Quick Facts About MBBS in Russia
---
| | |
| --- | --- |
| Country | Russia |
| Capital | Moscow |
| Currency | RUB ( Russian Ruble ) |
| National Language | Russian |
| Course Name | MD/MBBS |
| Course Duration | 5.8 Years |
| Eligibility | 50 % in PCBE, NEET Qualified |
| Medium of Introduction | English, Bilingual course in some colleges |
| Tuition fees ( English Medium ) | 3000 to 9000 USD / Year |
| Recognition | MCI, WHO & FAIMER |
| Living Cost | 100 to 200 USD / Month |
| Recommended Universities by Bissav | Crimea State Medical University, Kazan Federal University, Russian National Research Medical University, Ulyanovsk State Medical University, Altai State Medical University |
Why choose MBBS in Russia
---

MBBS in Russia is to gain practical exposure.
all Medical Universities are government recognized and are listed in World Health Organisation (WHO), and Medical Council of India (MCI).
Affordable fee for MBBS program in Russia.
The medium of study in English as in India if you choose top universities.
Indian food or self- cooking facility is available in a maximum of the universities.
Living costs in Russia considered less as compared to western and other countries.
Russian colleges for MBBS are top-ranked among the world about 30 positions are occupied by the top Russian medical universities.
The MBBS in Russia having financial help by the education minister of Russia up to 50% which makes it lower with advance level.
Pros of MBBS in Russia
---
The cost of tuition is the cost. Students don't have to pay any extra money to get admission.
Approx. all the universities are recognized by the WHO, UNESCO and other medical councils in the world.
The aspirants can apply for scholarship from the government of Russia and the aspirants can complete their MBBS entire course free of cost.
Students can travel anywhere throughout Russia with a single visa and students get discounts on public transportation.
For students, the cost of living is quite low too.
The Indian canteen is available in almost all the university hostels.
Cons of MBBS in Russia
---
As Russian is the local language in Russia, therefore students feel the language as a barrier (outside the campus).
It is tough to apply for the right university, to secure your seat in your choice of college, visa, accommodation, etc. It can be difficult for you to manage on your own.
The climate of the country is cold maximum time. So, the student should be prepared to brave these conditions is in Russia.
Bilingual program (3 years in English and last 3 years in the Russian language in some of the universities).
Eligibility criteria for MBBS in Russia
---
Students are eligible for MBBS admission in Russia if :-
Age: - You are at least 17 years old and maximum 25 years old on or before 31st December of the admission year.
Qualification: - Class 12th in Science with PCB and English subjects from a board recognized by the authorities in India.
Minimum Qualifying (%):- 50% in 10+2 for Unreserved 45% for (SC/ST/OBC)
Qualifying Entrance: - NEET-UG
Duration of MBBS Course in Russia
---
The duration of MBBS in Russia for Indian students is for 5.8 years and 1 year of the internship program which must be completed in India. For those students who are studying MBBS in the Russian medium, the total duration will be 7 years. In the first year, the student will undergo a preparatory course to learn the Russian language before starting to do the complete course.
Degree of Recognition
---
In Russia, approximately all government universities are approved by the Medical Council of India and WHO. This makes Indian students get admission with comfort and become eligible to practice medicine in India or any country they deem fit.. Also, in case a student thinks of return and practicing in India, a qualifying test is to clear, commonly known as the MCI screening test. The professors of the Russians medical institutions are aware of the MCI regulations and the exam patterns which puts them in a convenient position to simultaneously coach the students for the screening test.
Medium of Instructon for MBBS Course in Russia
---
Language is one of the biggest factors for students who want to take MBBS admission in Abroad. First thing that the student should take care before take admission that the university providing 6 years course is fully English or not. Most of the consultants didn't tell all the truth regarding the course. So the students face problems after admission.
Medical students must get assure regarding the language problem that the medical study of the university is either fully English or not before take admission in MBBS in Russia.
As a matter of fact, mostly universities are Bilingual, the three years of study are held in English and other three years in the common language and in that case, the student has to face a frightful in their carrier.
Our goal is to provide you the fully 6 years English medium course conducting universities so that no fierce in your carrier.
Climate and Safety
---
CLIMATE IN RUSSIA
In Russia, the winter is long and very cold and the summers are very short. There is a broad range of summer and winter temperature. January temperature is in the range of degree (35-45 degree F). Russia is one of the cold countries. Usually the temperature is between -10 to -20 degree C and sometimes heavy snowfall.
SAFETY IN RUSSIA
Russian communities are significantly more secure. Security in public space is secured by High Authority Security in Russia.
Foreigners must carry identification certificate like Visa, identity proof.
In Russia, no one can even be done ragging or assaulting anyone.
Being a foreigner, you have to keep a strategic distance from terrible sites.
Basically, it is safe to do MBBS in Russia for a bright future in countries which are actually not in a war zone and creates a good environment for study.
Moreover, the most of the countries are surrounded with the safe and best educational hub list with United Nation Organizations (UNO) and United Nations Educational, Scientific and Cultural Organizations as the safest nation in the world for studying MBBS in Russia.
Hostel Facilities in Russia
---
Medical universities hostels in Russia give exciting opportunities for Indian students to interact with foreign students and understand various cultures of other countries.
BASIC STRUCTURE
Russian medical universities provide comfortable accommodation with all the necessary facilities. The hostels provide cold and hot water and most of them have central heating system. Almost all the medical universities have combined hostels where boys and girls live on separate floors.
SECURITY
The medical universities hostels in Russia are authentic and quite safe for Indian students. All the essential safety measures are taken care by the universities for the secure stay of the students. 24x7 CCTV, police security, wardens, and guards are there in every university hostel of Russia.
Food
---
Students can choose among the low priced cafeterias that are located within the university hostels. University hostels generally have shared kitchen facilities to the students. Among the international students shared cooking is a popular option.
Important Dates for MBBS Admission in Russia
---
The Date for Applying MBBS Admission: June and July.
Obtaining Admission Offer: July-August, it takes 2 to 5 days to get admission letter from the university.
Ministry Approval and Visa: August-September, total process takes 15 to 20 days.
Course Commencement: September-October.
ADMISSION PROCESS FOR MBBS IN RUSSIA 2019-20
---
The admission process is very effortless in Bissav educational council. Students only need to submit their documents. Then the student can wait for a month and will get guaranteed admission to study MBBS in Russia. Only one thing you have to take care of is the timing of the application.
Applying for MBBS Admission: June and July
Here we give the stepwise process for MBBS in Russia:
STEP 1.Fill the form online) at www.becindia.org and make an initial document/registration fee (10,000 online only). Send a scanned copy of the mark sheet of your 10th, 11th and 12th, the certificate of the 12th scholar and a copy of the passport email at:[email protected]
STEP 2.After completing step 1, you will get the admission letter in within 2 to 7 working days of your application. Now send your passport and all the above documents (original) and also send medical fitness certificate, HIV report, and 6 photographs to our head office.now the invitation process will be started.
STEP 3.You will have to deposit the second installment of your processing fee. Once you collect the fee, your visa will be issued as soon as possible within 7 to 12 working days of the embassy working days and process.
STEP 4.Now you have your student visa, invitation letter, and Admissions letter declared by the university. Now you are ready to fly to your dream university that you always wanted for your MBBS degree. We will let you know that when other students are also prepared, and a group of students will fly from New Delhi to your destination country. We will notify you about your flight date.
STEP 5.You require to deposit the remaining processing fees before 7 days of your flight to the target. Our consultant will go with you to the university and stay with you until your classes start.
Now you are the student of medical university of Russia. Bissav team wishes you all the very best for your successful future. Study hard, do the best and leave the rest and achieve your dream to be a doctor and serve the society.
STUDENT VISA PROCESS FOR MBBS IN RUSSIA
---
To apply for your Russian student visa, you need to visit the Russian embassy or to contact us.
The documents that you need to submit along with your Russian student visa application form varies from country to country or authorized visa center before submitting your visa application.
You will need the following documents:
Passport or ID, valid for at least 18 months from the date of the delivery date of your visa and with at least two blank pages, plus a photocopy of the front page.
One recent passport-sized photograph (3.5*4.5cm)
Your official letter of invitation from the GUVM ( it need be the original document, not a copy)
Medical certificate less than three months old display that you are clear of HIV report (AIDS). Applicants may be asked to present their certificate in both Russian and your own language and include your passport details, information on the duration of the stay in Russia, details of the HIV test (date, medication series, official seal of the clinic or hospital that carried out the test, signatures of the doctors and your own signature).
The request form can be completed online but must be printed out so you can submit a hardcopy to the embassy, consulate or visa center.
If you are come under 18 years old, you must also have a permission document signed by your parents or legal guardians which has also been certified by a notary.
GUIDELINES FOR STUDENTS :
---
Insurance, Medical check-up, Visa, Ext. Per year.
Limited seat for International students.
Admission is on a first-come, first-serve basis.
There is no one time or semi package in Russia.
We recommend you deposit their tuition fees annually and only in university accounts.
Students should have good English proficiency.
Students should haveNEET pass scoring.
The duration of the course issix years.
Be aware of fraud authorities.
MBBS IN RUSSIA FOR INDIAN STUDENTS
---
Every year a large number of Indian students take admission in top medical universities of Russia. Russia has become one of the most popular destinations for higher studies among Indian students. There is an Energetic Indian Community present in Russia, so it's a very safe country for Indians. MBBS in Russia is to make your dreams come true for English medium. India and Russia share their strong cultural and economic connections. The study of Indian students at Russian universities is supported financially by the Russian government by 50%. So there are no separate scholarships or grants available from individual universities. The students pay for their tuition fees 50% of actual cost of education. Furthermore, the Russian government offers such a probable environment for the thousands of foreign students to get qualified in Russian higher education at a very appropriate price.
Top

Universities In Russia

Language

Eligibility

Deadline

1st year cost

Total Fee in 6 Year ( INR )

Crimea State Medical University
English
70%(Chem & Bio)
Last Week of July
3500 USD
1,470,000
Ulyanovsk State Medical University
English
50% in PCB
15th August
4000 USD
1,974,000
Kazan Federal University
English
60% in PCB
30th July
6500 USD
2,730,000
Altai State Medical University
English
60% in PCB
30th August
4000 USD
1,995,000
Kazan State Medical University
English
50% in PCB
20th August
5283 USD
2,218,860
Northern State Medical University
English
50% in PCB
30th August
5000 USD
2,310,000
Kuban State Medical University
English
50% in PCB
30th August
4700 USD
1,974,000
CAREER OPTION AFTER COMPLETING MBBS IN RUSSIA
---
After completing MBBS in Russia, you can practice your medical career in Russia without qualifying any medical licensing examination. But if you wish to practice your medical career in India, then after completing your MBBS in Russia, you have to qualify MCI Screening Test to attain a license for practicing your medical career in India. You have so many options- like you can go for higher studies, i.e., post-graduation and specialize in one field of medical science and can also go for Ph.D. and research. And you can also start practicing in Russia or other countries, for other countries you need to clear the concerned country's screening test.
MBBS IN RUSSIA CONSULTANTS
---
Many consultants in India provide Admission in University of Russia.
But it is advisable to take admission through the consultants authorized directly by the Russian Universities.
BISSAV is the organization that directly authorized by Russian Universities.
BISSAV has presence all over in India, with offices located in Patna, Ranchi, Lucknow, and Delhi.
A lot of students & parents come to us for admission in MBBS in Russia.
Each and every year, we are sending students in top medical colleges' admission in Russia at their choice.
Studying MBBS in Russia is a big decision for the students and parents to choosing a reliable and best consultant who helps you to choose the best colleges in Russia and solve all your queries, and here BISSAV offering you the right information and world-class benefits.
Our motto is to shaping your career, so when it comes to helping you with the best universities in Russia, which hold the potential of fulfilling your dreams, we provide the best possible support to students.
Our transparent work policies and honest services make us the best consultant of medical admission guidance for Russia in India.
We know how much it is important to you, so we always want to do our best and give our full support to the parents and students.
We do for our clients are:
University Selection
BissavEducational Council helps you to determine which university is best for you, and we give you a budget-friendly option. We provide full information about the university.
Free Counselling
Bissav Educational Council gives your guidance to choose courses that perfectly fits your career and personal goals.
Documentation Assistance
BissavEducational Council provides complete passport assistance, Education loan, and details of legalization documents for the students.
Financial Aid
Bissav guides you on how to manage finance, be it a loan or your own money. Our experts will guide you when, wherever, and how to get funds settled in a comfortable, on-time, and cost-effective way.
Application Process
Our dedicated experts are organizing all the application requirements for MBBS programs conducted by different universities in Russia. All you require to do is to contact us, and the process will be easily achieved.
Pre-Departure Briefing
Pre-departure preparation is prepared for the student's convenience. Bissav MBBS consultants Russia makes sure that the students should know what to do, where to go, and whom to contact once they are in Russia.
Post Arrival Assistance
We take care of our students even after they have arrived in Russia. We are always available to serve our dear students during their studies.
One-to-One Service
We give one-to-one personal guidance service to every student, thereby clearing all his doubts related to MBBS in Russia.
FMGE PASSING PERCENTAGE IN RUSSIA
---
What is FMGE
Foreign Medical Graduate Examination (FMGE), which is commonly known as the MCI screening test is conducted by National Board of Examination (NBE). The screening test is handled two times in a year, in June and December, a computer-based test.
FMGE Qualifying Marks
As per the official notification of FMGE 2019, the National Board of Education stated that the candidates who score a minimum of 50% marks in each of the papers in the screening test are treated qualified.
As the entire paper of FMGE is 300 marks, it is mandatory to obtain at least 150 marks to get the pass certificate from NBE.
FMGE Passing % of the student in Russia
The performance of Indian students, who have studied in Russian Medical Institutions, in the FMGE examination for the period of 2012-2014, the passing percentage of students is 18.4 %. This data is quite old, in 2017-2018 the passing percentage of the students are slightly increased in FMGE.
IS RUSSIA A GOOD COUNTRY TO STUDY MBBS
---
Yes, it is a good choice to pursue medical studies from Russia. Russia is a good country to study MBBS. Russia has been a favorite destination for Indian students for a long time. Russian Communities are significantly more secure. Security in public space like shopping malls, tourist destinations, etc. is secured by the High Authority Security of Russia. Russia has always welcomed a Multicultural people.No one can even be done ragging or assaulting someone.
The degree given by Medical Universities in Russia is equal to India's MBBS degree. Completing MBBS degree from Russia has the same value as the MBBS degree in Indian Medical Universities. Once you completed your MBBS from Russia and came back to India, then you first have to clear the screening test (FMGE).
There are around 4500 Indian studying in Russia; approximately 80% are medical students. Russia considers India as one of the most powerful allies.
Students from middle-class families can also afford the expenses of their studies MBBS in Russia. Students are working across the world's leading hospitals like in India, Australia, Canada, USA, UK, and all other significant parts of the world.
MBBS IN INDIA V/S MBBS IN RUSSIA
---
In India, every year countless of aspirants appear for medical entrance tests to become a doctor, but not all are able to get admitted to best medical colleges. However, MBBS in Russia does not require any entrance examination. Russia has always been ahead in the field of education, specifically in medical.
In India, most of the private institutes have a capitation fee ranging from 15 to 20 lakhs with an annual fee of 4 to 5 lakhs. For any middle-class family can't afford but students should not lose hope, students can choose a good reputed university in Russia. Russian study is easy, cheap and flexible.
In India, donation is to be paid and admission process for MBBS is also full of trouble however In Russia, no donation is to be paid and admission process for MBBS is also trouble-free in Russian universities.
In India, the eligibility criteria of the top medical colleges in India are very high, however, In Russia the eligibility criteria of the Russian colleges is not so high for international students.
In India language is not an issue but In Russia, you have to learn their local language as an additional subject, which is quite difficult thing.
In India, it concerned the main focus is on imparting practical knowledge and examination however In Russia, they focused on theoretical knowledge and less examination.
In India, the duration of MBBS is 5 years however In Russia the duration of MBBS course is 6 years
WHY SELECT BISSAV OVERSEAS EDUCATION FOR MBBS IN RUSSIA
---
Bissav Overseas Educationis the most reliable MBBS Abroad Consultancy in India (Patna Bihar, Ranchi Jharkhand, Lucknow Uttar Pradesh, and Delhi). We are presenting you most secure medical admission at a little cost in countries like Russia, Ukraine, Georgia, China, Kazakhstan, Kyrgyzstan, Armenia, Belarus, Philippines, Tajikistan, Nepal, and Central America. We provide the best support and direction to the students for MBBS in Abroad to achieve their goals and become a successful doctor. Our aim is to giving quality steering to students. United Nations Agency will study abroad; we have sent many students to various foreign medical universities. Today, we tend to area unit the leaders in academic practice and represent leading universities in the USA, UK, Canada, and Ireland, European nation, Russia, China, and Asian country, as one of the number one study abroad advisors.
There is plenty of reason that makes us one of the most reliable study abroad experts.
We are here to explain all your inquiries and doubts and assist you as a friend.
We provide students with reliable and authentic study notes and FMGE test series to ensure that student gets success in the test.
We also offer university selection guidance to help you choose cost-effective and top universities in Russia.
We assist you with the documents and Visa application like stamping from Embassy & Ministry along with translating academics notarization of documents. And get zero rejection of Visa issuance.
We make your travel arrangements.
We will guide you on an education loan option in India.
We will support you in arranging Visa renewal or temporary cards.
Our executive member receives you at the airport on your arrival.
FREQUENTLY ASKED QUESTION
---
What are the eligibility criteria for the admission in Russian university for MBBS?
The student must have passed 12th with Physics, chemistry and Biology and English from recognized board with minimum 50% in PCB and 40% for reserved categories. And he/she must qualify NEET.
When does the academic year start in Russian Medical University?
The academic year starts from 1st September in all Russian Medical University.
Is entrance exam required in Russian medical university to study MBBS?
The universities that we suggest for you do not require entrance exam.
What is the duration of MBBS in Russia?
MBBS in Russia is a 6 years course if you select English as the medium of instruction, whereas 7 years for the students who select Russian as the medium of instruction, as per the first year for learning Russian language.
Does the MBBS course is valid in other countries?
Yes, the Russian medical universities that we suggest have been accredited by WHO and UNESCO, as well as valid in all major countries of the world. There are many countries where you practice without any screening test, but in India and USA screening test is mandatory to practice.
6. Does the Visa is compulsory to study MBBS in Russia?
Yes, student visa is compulsory, without student visa you cannot do MBBS in Russia. So first you need to apply for the visa along with your admission form to the respective university. We as a abroad education consultant help in the whole process of the admission and visa and ensure you for smooth and hassle free experience throughout the process.
How can I get an education loan?
You can easily get an education loan because the universities we suggest provide all the necessary documents to get an education loan from private and nationalized banks and we as an abroad consultant assist you in the entire process.
After completing my MBBS, can I do an internship from India?
Of course, you can do an internship from India, once you clear the MCI screening examination conducted by MCI.
How can parents send money to their children?
We as an abroad consultant recommend to the students to take an international card, forex card or hard cash in USD. We also help students in opening a bank account in a bank of the respective city and money exchange too.
What kind of food served to the students in Russian medical universities canteen?
The university canteens provide all kinds of food. Some restaurants are also available which serve Indian food, bread, cookies, pastries, ice cream, canned juices.
Can I get government job in India after completing of MBBS course?
Yes, you can easily get the government job in India, the only condition is that you must the MCI Screening Test, and then you are equal to Indian MBBS doctor.